Hotel Transylvania is a resting place for all unwanted monsters in the world, but they sure rest with some style!
Rating: 8/10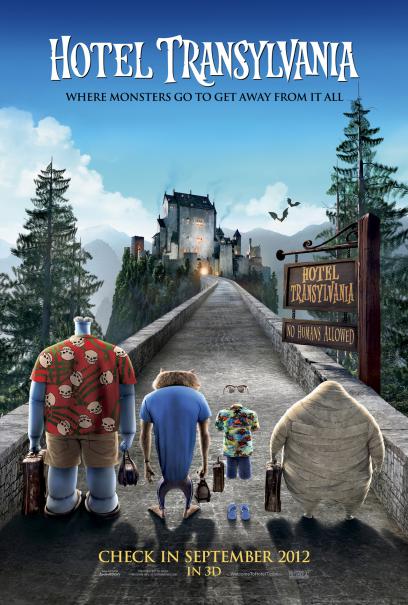 Control-freak Dracula, kind-hearted Frankenstein – Mr. and Mrs., sleepless Werewolf, cool Invisible Man, obese Mummy, and all other monsters were gathering in Drac's (that is, a short version of Dracula) Hotel Transylvania, a place hidden with haunted cemeteries and forbidden forest to keep the real monsters away – the humans.
And today was Drac's little girl's 118th birthday.
All she wanted was to see the world, but all her Dad wanted was to keep her there, save from all harm, forever. After his one true love was killed by humans centuries ago, Drac promised her that he would keep his daughter save.
But ah, teenagers.
Drac's hard work of keeping Mavis, his daughter, save for 118 years was about to be ruined in one night. Because on the eve of Mavis' birthday, one boy, a human, was actually able to get over the forest and found the monsters' sanctuary.
Voiced by numerous well-known celebrities from Adam Sandler (Drac), Andy Samberg (boy), to Selena Gomez (Mavis), the movie offers a fun, entertaining show for the whole family. I was wowed at the first minute of the screening, and was still wowed at the end of it. It's totally my cup of tea, and somehow, I feel like a little child again.
Full of relevant jokes, funny lines, and great story morale, Hotel Transylvania was indeed a brilliant movie. I had a lot of fun.
So what are you waiting for? Check out this movie real soon!