Sign up to my newsletter and read the first chapter of What I Wish I Had Known today!
What I Wish I Had Known
And Other Lessons You Learned in Your Twenties
I've lived my whole life following people and taking their choices as mine. I will dream a new dream, a dream that's totally my own, and I will work hard to get it.
Ever since her acceptance letter to study abroad arrived at her inbox, nothing in Marcella Purnama's life has gone according to plan. Instead of choosing Science, like her two older sisters did before her, she steered path to study Arts—a degree so alien to both her families and friends. But as she traveled thousands miles away, struggled with English, had her first byline and went back home to apply for her first job, Marcella realized that plans are meant to be changed. Full of relatable tales of horrific group work, falling in love, first job interview and quarter-life crisis, this illuminating account follows how a young adult grapples with life's small and big questions, and the lessons learned along the way.
Read the first chapter for FREE when you join my newsletter list.
Want to order your copy? Here's where you can find them:
Hardcopy: Gramedia, Buka Buku
Ebook: Scoop
---
On the media:
Reviews:
---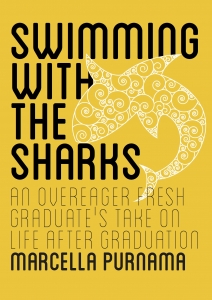 Swimming with the Sharks
An Overeager Fresh Graduate's Take on Life after Graduation
Living most of her life trying to have the next best thing, Marcella felt like there was much more to life than just this. When she was in university, all she wanted to do was to work. And then when she was working, she gave all her had to quit.
And not just quitting, but quitting, again and again.
Like many overeager fresh graduates out there, she felt lost, unfulfilled, unhappy, and plainly, she didn't know what to do.
Swimming with The Sharks tells a story of growing up. It tells stories of success, and also of failing. But most importantly, it tells a story of how to get back to one's feet
Available for FREE when you join my newsletter list.
---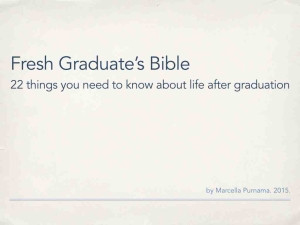 Fresh Graduate's Bible
22 Things You Need to Know about Life after Graduation
After writing and releasing Swimming with The Sharks, I was thinking, well, why stop there? This thought turned into the Fresh Graduate's Bible: 22 things you need to know about life after graduation. It's a 1,000-word guide on the important lessons I've learned (from myself and others) and re-learned along the way.
The guide is formatted as such that it's easy to read, easy to share, and even easier to remember. I hope that it can help you navigate the unchartered waters of adulthood.
Available for FREE when you join my newsletter list.