It's that time of the year again.
Glasses are raised, hugs are exchanged, celebrations are held – it's Christmas holiday, and according to Justin Bieber, it's the most beautiful time of the year.
And yet, this holiday season has been an up-and-down-emotional-roller-coaster-ride for me.
First of all, I have graduated. The name's Marcella Purnama, BA.
Second of all, I have rejected an Honours in Psychology offer, deferred a Master in Journalism offer, and accepted a three-month unpaid internship in a Jakarta-based media outlet.
It was a hell of a choice, I reckon.
And that means I have three more days to spend in Melbourne.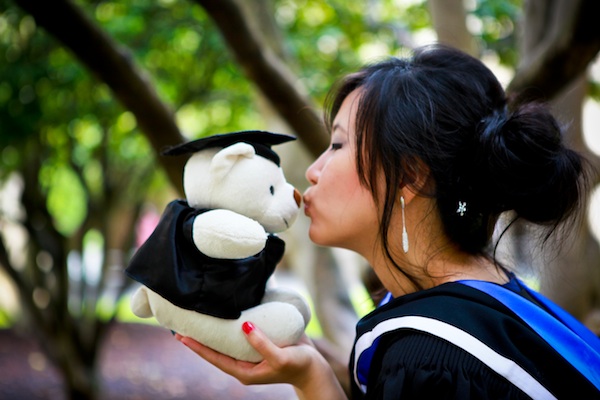 Life is full of choices and surprises, and sometimes, you just have to make one, and go with it. There are easy and hard choices, but the key is knowing which is the right one. Each choice has its own baggage and once you decide, there's no turning back.
Each choice is a risk – deciding to do A is a choice of not doing B.
But in the end, I am glad that I have chosen something that will take me out of my comfort zone. Something that will definitely challenge me, and hopefully, something that will take me one step closer towards realising my dream. Something that I really want to do.
I am glad that my parents still support my decision even though they have different opinions. I am glad that I have friends and mentors on whom I can rely on.
I am glad that I still have the courage to even choose.
It's been a hard decision for me to take (I guess it's not entirely easy to let go of the Asian gene in me to not do the prestigious Honours degree in Psychology), and I still have no idea if it's the right one.
But I know that I'll be doing something that I really want. Something that's very dear to me.
And if one day I look back and regret my decision, at least I will do further degree with a clear conscience and 120 per cent worth of thirst for knowledge.
And I know, I'll be okay.
So Merry Christmas to all of you, and I hope we will all make wise choices every day.
"We all make difficult choices in life. The hard thing is to live with them."
The Words
PS. In a couple of days I will be halfway across the world, holidaying to the States until mid-January. Thus, this will be my last entry in 2012. I believe you will fancy your quiet time without me sending stuffs on your inbox and hopefully, by the end of it, miss reading my articles even more!
It's been a pleasure writing for you. I wish you all a blessed new year, and see you in mid-January 2013!
Photo by Tjokro Aminoto