mp's rating: 7/10
It's a good action movie alright. Well, with good casts too.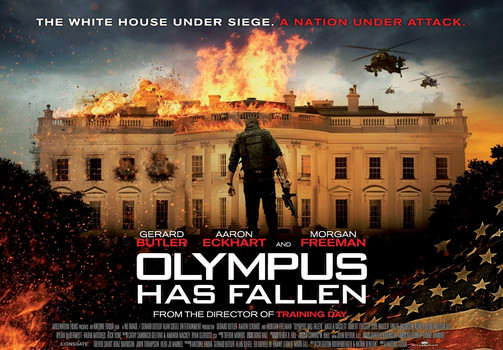 "Olympus has fallen, I repeat, Olympus has fallen."
Gerard Butler can do everything. From being such a handsome guy in PS I love you, to the strong, honourable king in 300, to jackass at The Ugly Truth. Now, he adds one more collection to what he can do: a great Hollywood action movie.
Olympus Has Fallen (2013) tells the story of Mike Banning (Gerard Butler), the US President's private bodyguard, who failed to save the his wife on an accident, instead only saving the President's life.
Sad from being reminded of the accident, the President ordered Mike Banning to be mutated to a desk job, until one day North Korean terrorists attempted to capture the White House, and succeeded.
In terms of acting, all casts are brilliant. In terms of action, it's also great. In terms of plot, it's quite usual.
While it was an entertaining movie for me, my Mom stepped out of the cinema half-sulking, complaining about how 'dumb' the US government was to be able to be taken by terrorists in 13 minutes. Yes, it was just a movie, but if it really happened, the results might actually be devastating.
I smiled at my Mom's innocence, and still said that it's a good movie. It's not the type that you'll watch twice, though.
Kirk out.