My sister Jessica tied the knot two months ago in Melbourne, Australia. Instead of asking for her best friends to do the speech, she asked me. I was wondering the whole time of what I would say on her wedding. How should I choose between tons of sweet, sad and embarrassing memories? I couldn't say everything I would like to say in a five-minute speech, but perhaps this was close enough.
Jess and my new brother-in-law, Pohan, is currently celebrating their wedding receptions again in Jakarta and Cirebon. It seems like the right time to reminisce of what have been said.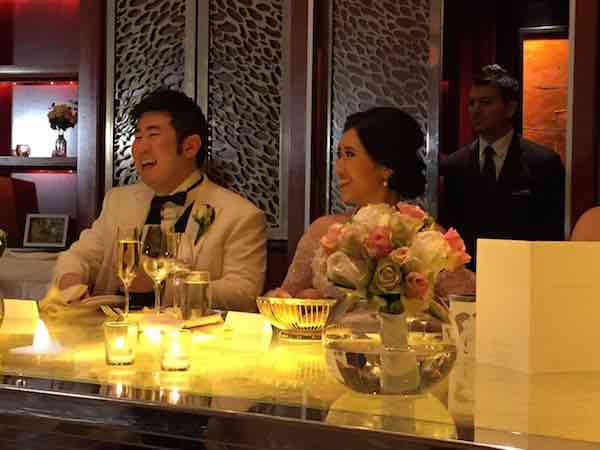 Jess and Pohan's Wedding – Melbourne
19 September 2015
Maid of Honour's Speech
Hi, everyone! My name is Marcella and I'm the bride's little sister. So before I get to the main event, let me just start by saying on behalf of the Purnama and Lukito's families, thank you for coming to celebrate Jess and Pohan's wedding.
I've known Jess for as long as I'm around, almost for two decades, and we have lived together for eighteen years. Even my parents only lived with her for seventeen years, so probably I'm more Jessica-expert than them. 
As a family, we're really close. My Dad drills the lesson of 'three is better than one' since we were young, so that's one of the lessons that's stuck in our brain. Jess is the middle child, and what the psychologists say about middle child syndrome is true: my first sister, Christina, and I are both outgoing and outspoken, which probably are the nicer terms to use than chatty and loud, and Jess is always the quiet, considerate one. 
Growing up, I've always had a little bit of sister complex. Christina went to study in Singapore when I was ten, so during those confusing teenage years, I became close with Jess. She was the one I turned to when I was having boy problems, or when I needed someone to explain to me what 'inertia' in Physics means.
Jess always has this cool head where she weighs the pros and cons, explaining to me what to do or not to do. She would listen to my story, then proceed to diagnose the case like a doctor, pointing out the things I did wrong and why. As my older sister, she is burdened with the unspoken task of taking care of me – making sure that I grew up well by not spoiling me and telling others not to spoil me. 
When she finally went to Melbourne to study medicine in 2006, I cried. She visited home about twice a year, and every time I would cry when we drove her to the airport. In 2010, I followed her to study here, and that was when I stopped crying.
And if I'm honest, she's one of my role models, although I'm not sure I've ever admitted that to her in person.
Being a doctor, Jess sometimes called me on her way home from the hospital and rambled about how she thought that this nurse was not respecting her authority, or how that doctor from the other department declined to take over the patient because there's no bed available, or needing to take care of late patient admissions when she's just about to go home. Being a somewhat attentive but clueless little sister, I either bombard her with questions on different medical terminologies, or pretend that I understand every word she said. But after she met Pohan, she could share her concerns at work as they talk in the same frequency. In my defense, I know what a lumbar puncture means, but I'm happy that she's found another doctor.
I do think that Pohan understands my sister best. They have similar ways of thinking, from not wanting to burdening their friends to ask for help to prioritising quality time together. And even though his loyalty to the 'brothers' sometimes makes my sister raise an eyebrow, I believe that they have come a long way since those first months of being together, which may or may not be a bed of roses. I've seen my sister becoming more patient; she learns to compromise and develop the tips and tricks on how to get a man to listen and change for you. And I've seen Pohan changes his 'bachelor' character. He buys her flowers on every occasion without fail, brings her to musicals, and most of all, he eats less at Nam Loong, his favourite Chinese restaurant that might not be that appetising to my sister. In these past four years, I believe that they have changed each other for the better.
In the months when they first got together, I've told Pohan not to make my sister cry. I know now that it might be a mission impossible, so let me just say that I know you will take good care of my sister – you have about one hundred people here as the witnesses to not screw things up. So Pohan, welcome to our crazy Purnama family, and we all wish you both a happily ever after after all.