I am officially broke.
Right after exam, I went for road trip around Victoria for seven days. A week after, I went to Sydney for another four. Now, I wish money grows on trees.
Nevertheless, both experiences are really good, although being the total opposite. One is about rural, mountains, waterfalls, and wineries, the other is about city, city, food, city, and city. I enjoyed both, and I came home with two or three extra kgs in my belly.
So what did I do in Sydney?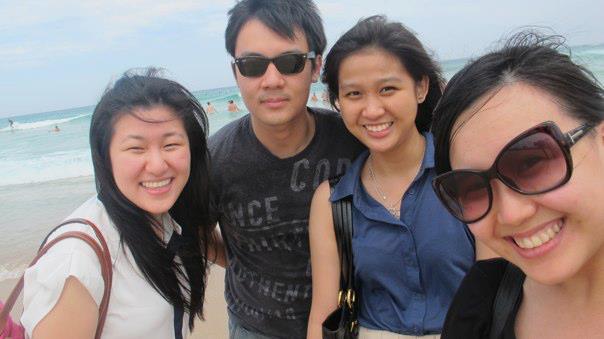 Day 1
Waking up at 4.30am in the morning was a pain, especially when I only had a 10-minute sleep the day before (Melbourne reached 40 degrees Celcius and it was extremely hot). Livia (my friend who was traveling with me) and I took the skybus to airport for the 6.45am flight. At about 8am, we arrived in Sydney.
After dropping our bags at the hotel, we had breakfast at Bourke Street Bakery, Surry Hill. It was an interesting bakery for it sold fancier stuffs compared to normal ones. My Sydney-sider friends thought that it was overhyped, though, and after some time I was thinking the same thing. But it was still a lovely breakfast, although the sun was being very unfriendly that morning.
After breakfast, we headed to the city center (the World Square building, to be exact) to meet our high school friends. We had lunch at Madang, a Korean restaurant. I still love the food there, but Livia said it was disappointing (after all the talk about how delicious the food at Madang is). Oh well.
Then, we went straight to Bondi beach. Despite being a Friday afternoon, Bondi was full of people from everywhere. We had a walk on the beach, had a fried Mars Bar for snack (to my defense, I only accompanied my friends for this treat as I tried it last year and unable to swallow the food – too oily and chocolaty for me), and went to Bondi Junction for dinner. We tried Bondi Pizza, and the food was impeccable. I was (still am) so amazed at how good their pizzas are, the lamb pizza being my favourite!
We then went back to the city and had fancy gelato for desserts.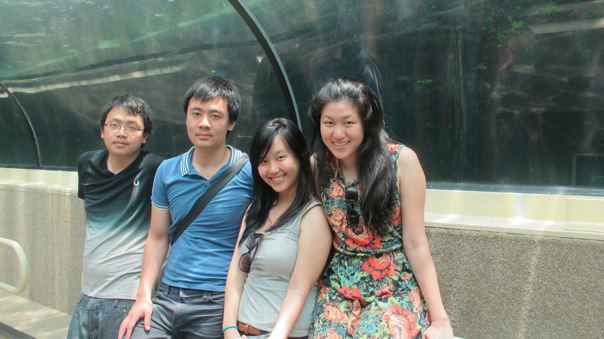 Day 2
We woke up at about 9am, and by 10.30am we were already having brunch at Pinangsia Noodles, an Indonesian restaurant. My sister's boyfriend dedicated this whole trip to Sydney to eat here, so we might as well join him. The jumbo meatball was awesome.
After brunch, we met our high school friends and headed to Darling Harbour, visiting the Sydney Aquarium and Madame Tussaud. The Sydney Aquarium is definitely bigger than the one in Melbourne, but for some strange reasons I actually like the Melbourne one better (people say it's the company that matters, and since I went to Melbourne Aquarium with a special someone…).
Before going to Madame Tussaud, we had lunch (yes, lunch) at 2pm. Where? At Hurricane. The ribs. were. super. good. To my delight we tried the lamb ribs and I can actually say that it's better than the pork ribs. Who would have thought?
After our small detour we went to Madame Tussaud, and the place was really small (in fact, the smallest I have ever been to – I went to the one in US and Hong Kong). But it was still fun to take silly pictures with your friends. Tee-hee.
We then had dinner at Chat Thai, the famous Thai restaurant in the city. The desserts were the winner. There was this one dessert with coconut milk and various balls (taro, pandan, green tea, etc) that was to-die-for. Yum.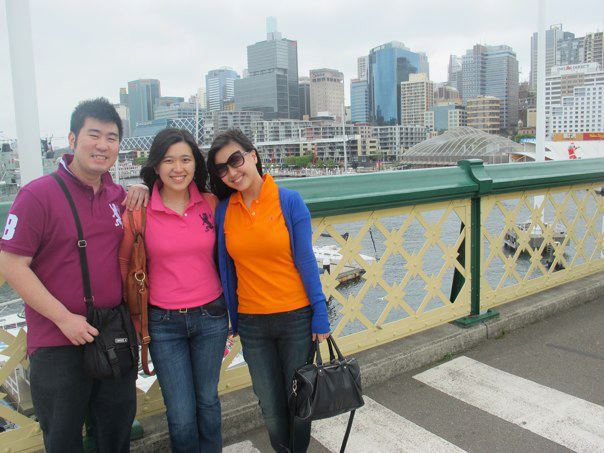 Day 3
Fish Market time! My sister, her boyfriend, Livia, and I had a good dose of salmon and tuna sashimi, with lobster, calamari, oyster, crab, and prawn. Absolute yum. Too bad Melbourne doesn't have their own fish market.
We then continue our culinary journey to Adriano Zumbo's desserts at Star City. Macarons were ok only, but the cakes were superb. We ordered the chocolate mousse cake, passionfruit tart, and vanilla cake. The vanilla cake was just gorgeous. Really, really to-die-for.
After desserts we went to Darling Harbour to visit the Sydney Wildlife Zoo, and we were amazed on how small it was. Among the three (Sydney Aquarium, Madame Tussaud, and Wildlife), the city zoo, in my opinion, is not worth going.
We then had dinner at Arisun, another Korean restaurant and surprisingly it was really, really good. The soy chicken, black bean noodles, and pork belly hot pot were delicious. Ahh, yummmm. After that we went for desserts at N2, the fancy ice cream that used liquid nitrogen. In my opinion, it melted super quick and was just not worth it. It was interesting to watch the making process though.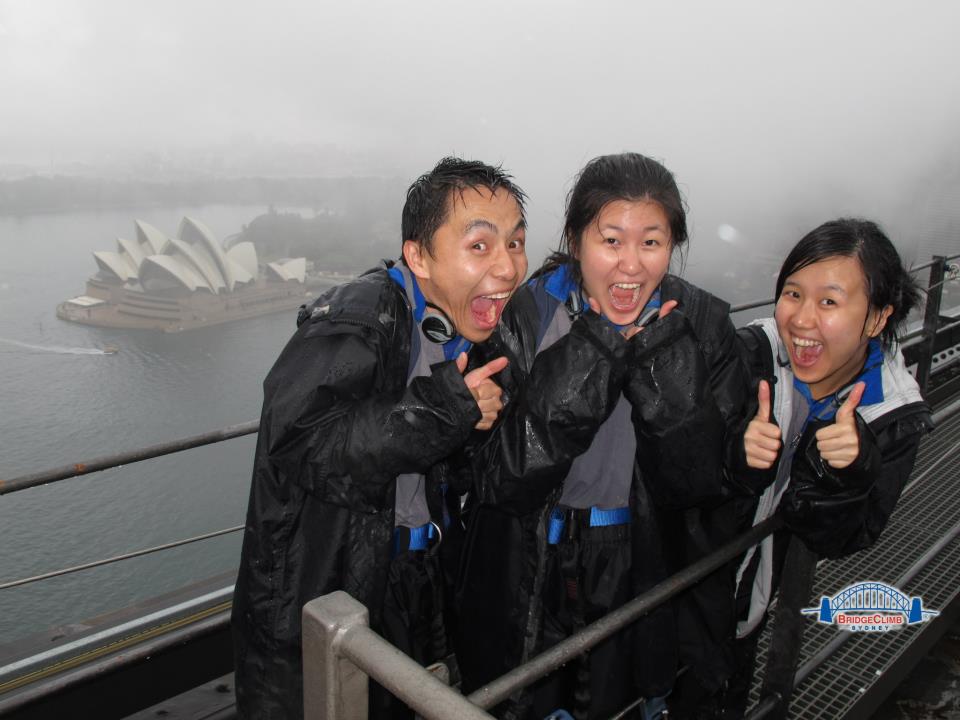 Day 4
Eddie (a friend coming from Melbourne especially for this), Livia, and I climbed the Sydney Harbour Bridge! It was definitely a once-in-a-lifetime experience. Sadly, though, it was raining and foggy when we climbed up there, but our climb leader, Mitch, was really good at what he did. He cracked jokes, told us about the history, and made the experience very enjoyable. He told the story of this one guy who proposed during the bridge climb yet lost the AUD$10,000 proposal ring. Gulp. And yes, the climb was expensive (about AUD$220), but all-in-all, I think it was worth it.
Had lunch at Pancake on the Rock. My Sydney-sider friend told me that they had the best beef ribs ever and in my opinion, they really did. Food was good.
We then headed back to the city to try the famous macaron shop from Paris, Ladure. In one word? Expensive. Usually, macaron was sold at AUD$2.50 each but this one was priced at AUD$3.20 each. Yes, it was fancy, and the flavours were interesting (think strawberry marshmallow), but all-in-all, I don't think it is that phenomenal. By the way, dining in would cost you AUD$4 for each macaron.
It was now time for dinner, and we went to Superbowl, Chinatown, to eat my favourite preserved egg congee. It was divine. Nuff said.
—
Sydney has been a memorable journey – meeting my high school friends, spending time eating and eating and eating and not worrying about weight, and climbing the bridge. I still hate the public transport though. And for living, I still prefer Melbourne.
PS. For more photos, click through my Sydney Trip 2012 album.