I love cooking sliced beef. It's quick to cook, it's easy, and it always ends up being a tasty dish.
Some months back I experimented with cooking beef enoki for the first time. I discovered that it's actually super easy to make, hence it's been cooked quite a lot ever since. The key is to buy thinly sliced beef, and I get mine from the Asian supermarket. I reckon you can buy the meat on a butcher shop and ask them to slice them very thinly as well.
For this dish, I use light teriyaki sauce which is straight from Adam Liaw's recipe.
Light Teriyaki Sauce
I use this sauce all the time now—to cook beef enoki, salmon teriyaki, white fish teriyaki, chicken teriyaki, and so on. The sauce is so versatile and it's not sickly sweet or salty—it's so good! (Thanks Adam Liaw!) Make a big batch and store it in the fridge. It will last for months.
INGREDIENTS
250 ml soy sauce
200 ml mirin
200 ml sake
80 g caster sugar
METHOD
Mix together all ingredients in a small saucepan. Stir over low heat until sugar is dissolved. Taste and see whether it needs more soy sauce/sugar, or even water—adjust to your liking! Allow to cool before storing in a glass bottle in the fridge.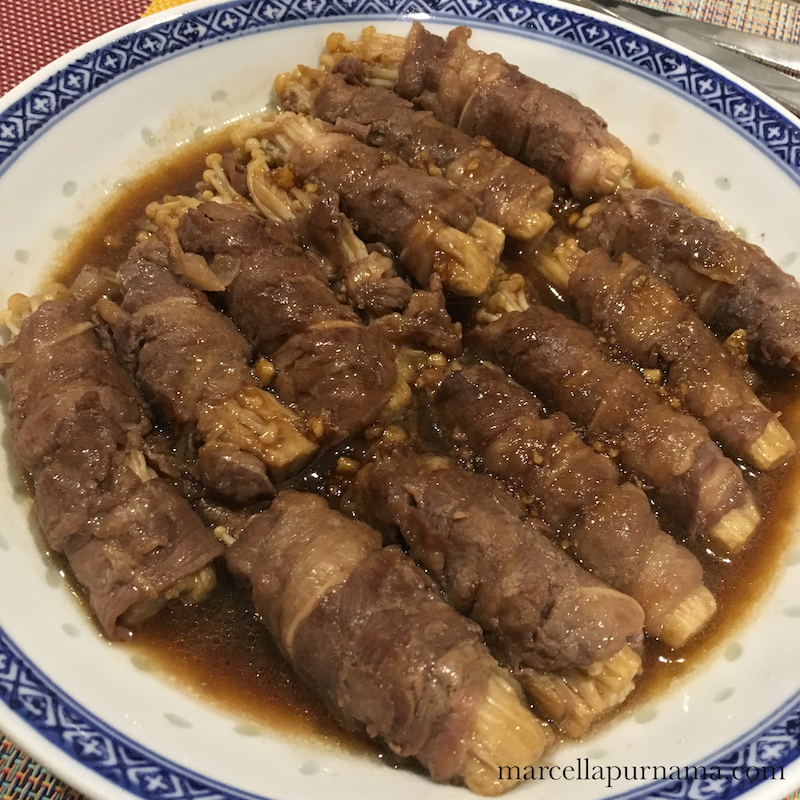 Beef Enoki Roll
Serves 4
Cooks in 15 minutes
Difficulty easy
INGREDIENTS
250gr thinly sliced beef
half a package of enoki mushrooms (about 200gr), roots cut, washed
light teriyaki sauce
METHOD
Take a handful of enoki mushroom and one slice of beef. Wrap the enoki with beef slice, using extra beef slice if needed. Don't worry if it gets a bit messy! Repeat with the rest of enoki and beef slices.
Heat oil on a pan. Cook the beef enoki rolls on all sides. When three-quarter cooked, add the light teriyaki sauce on the pan.
Remove the beef enoki rolls and cook the sauce for a little bit longer to make it thicker. Pour the sauce on top of the beef enoki rolls.
Serve with rice, or as a side dish!