It's been such a journey, and we have finally arrived at this stage. With such excitement I'd like to announce that my first eBook Swimming with The Sharks is now launched!
"It's really insightful, thought-provoking and relatable for many of us who have just graduated university."

Timothy Lam
About the eBook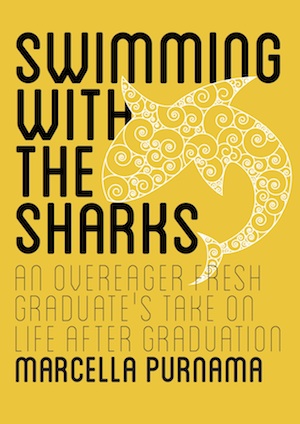 Swimming with The Sharks is a short eBook about life after graduation.
I have lived most of my life trying to have the next best thing. When I was in university, all I want to do is to work. And then when I was working, I gave all I had to quit.
And not just quitting, but quitting, again and again.
Since my graduation in the end of 2012, I have thrown in the towel three times. I have burned bridges and felt like a failure. Like many overeager fresh graduates out there, I felt lost, unfulfilled, unhappy, and plainly, I didn't know what to do.
In this book, I share my stories of growing up. I share my successes, as well as my failures. I realise that in this mad race called life, I'm not alone.
"I really love this book! I found an enlightenment from your story and I am literally grateful that you are willing to share it."

Sylvia Snow
How to get a copy
You can get a free copy of Swimming with The Sharks by joining my newsletter list.
This will automatically subscribe you to free updates as well. Once you confirm your email address, you'll receive a link to the PDF that you can download.
Once you've read it…
If you've already read Swimming with The Sharks, thank you! Without you readers, this book is merely words on paper – you are all the ones who give them meaning.
You are also welcomed to share your thoughts about the book in the comments below. If you like it, share it with others! Here are a few ideas:
"I shared the link of your digital book to my college buddies and best friends right after I finished reading it. Thank you for sharing your thoughts and experiences. Just when I thought that being clueless all the time and not knowing what I want in life is a dead end, I realised once again that we can't get everything in one shot. And yes, I love everything about it. Looking forward for the sequel!"

Cheryl Joanne
Grab a free copy
Ready to learn all the things you need to know about life after graduation? Enter your email below to get a FREE copy of my eBook Swimming with The Sharks. Once you confirm, I'll send the PDF straight to your inbox!