Know that feeling? I bet you know. Whether you are 20, 30, or 57, you know at some point, you're too old to do the things you used to do.
I almost pulled an all-nighter yesterday, sleeping at 5 in the morning.
It's no biggie, actually. Every desperate high school, college, and university student does it. You start doing your assignment at midnight, and end up being awake way pass your bedtime hour.
I woke up at 11am and got the worst headache ever. I canceled all my plans to go for coffee (and do my assignment there) and stayed at home and did my assignment here instead (yes, to my credit, I actually finished it while having massive headache).
At about 4pm, I had my super late lunch, crashed on the sofa, and laughed at myself.
Seriously, I think I'm too old for this.
For pulling an all-nighter, and having messy eating and sleeping time.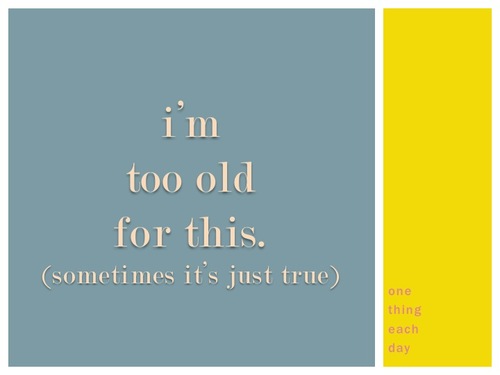 Last December, my family and I went to Universal Studio Orlando. We had tons of fun, and when it came to rides, one by one my older sister bailed out on me.
If you don't know me, I'm the kind of girl who will take every challenge to do any kind of rides. I love rides. I love, especially, the scary ones that no one wants to go.
But that time, when I was three seconds away from plunging fifteen meters down from a roller coaster ride at 100 km/h, my heart shrunk.
Getting down from the ride, to my utter disbelief I started thinking that I'm too old for this.
I reckon I should do bungee-jumping and sky-diving ASAP before I bailed out on myself. Uh-oh.
So here's my before-I'm-to-old-for-this list. Any similarities?
Do bungee-jumping.
Sky-diving, of course!
Go to Six Flags, Los Angeles and ride the scariest roller coasters in the world.
Hike a mountain, literally.
Learn how to surf.
Visit the rainforest in Brazil and see crocodiles in their habitat (I just make this up on the spot)
Real rock-climbing!
Do a one-month mission trip to some bizarre countries while teaching the disadvantaged kids.
Do backpacking across states………
Do patisserie, coffee, RSA, wine, and beer courses.
What's written on your before-I'm-too-old-for-this list?