For the past year or so, I've been obsessed with homecooking. If you follow me on Instagram (@mpurnama), you'll see that I cook almost daily. Many of you have asked for a recipe, and I've been wanting to collate all my cookings in one place (perhaps for my children later on). I know, I'm no chef, and still very much a newbie—I just love cooking at home, serving delicious, nutritious, easy food for myself and the husband.
So from those daily sharing of homecooked food, I've decided to create a new section on this blog for the recipes that I've cooked and become staples at my home. They're mostly easy, mostly stir-fries, and mostly Asian. (That's just our palate!)
I really hope that this blog will inspire you to ditch those takeaways and cook more at home. Not only you will save more money, you'll be healthier too!
For my first ever recipe, I think it's apt to share on how I make my corn soup. Saying that this is a staple at my home is an understatement—this is the first ever food that I've cooked, dating back when I was still a teenager. (Okay, probably second to instant noodles.) I've probably cooked this once every few weeks or so. Whenever I'm lazy, in need of easy cooking, or just wanting to add another non-heavy dish, corn soup is my go-to choice.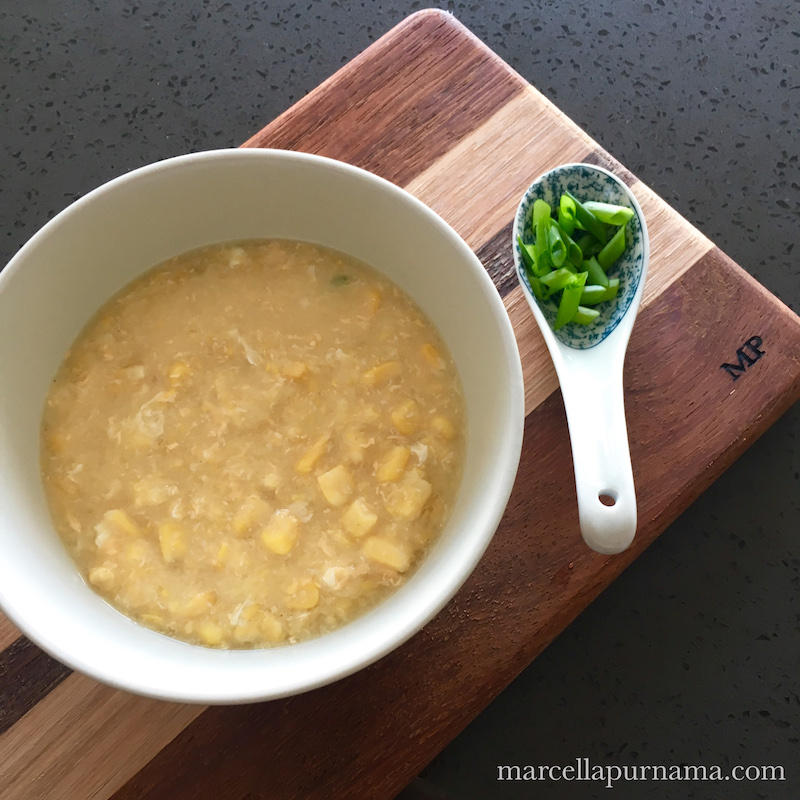 Serves 4
Cooks in 15 minutes
Difficulty easy
Ingredients
1 can (410 g) of corn kernels
1 can (410 g) of creamed corn
a dash of milk (1 tbs or so, optional)
1 L chicken stock (fresh is good, but I usually cheat and use stock powder and water)
1-2 tbs of sugar
1-2 tbs of salt
a dash of white/black pepper
2 eggs
mixture of of cornflour and water, to thicken, if desired
Method
Add chicken stock to a medium-sized pot and bring to boil. Reduce the heat to simmer.
Add corn kernels and creamed corn and stir, let it simmer for a while.
Add salt, pepper, sugar, and a dash of milk. Stir for a bit. Add the eggs and continue to stir, breaking the eggs to become ribbons.
Taste and add some more salt/pepper/sugar accordingly. The corn soup will typically thicken a bit when it's cooled down, but you can add a mixture of cornflour and water to get to your desired consistency.
Garnish with scallion and enjoy!
Ps. I like the soup as it is (with heaps of pepper, oh, I love pepper), but my sister always omits the milk and adds chicken. If you like creamier-style soup, use two cans of creamed corn instead.