Another easy pasta recipe.
I cook bolognese once every few months, as I usually make a huge batch and freeze three-quarters of them into separate portions, ready to be defrosted on a lazy cooking night.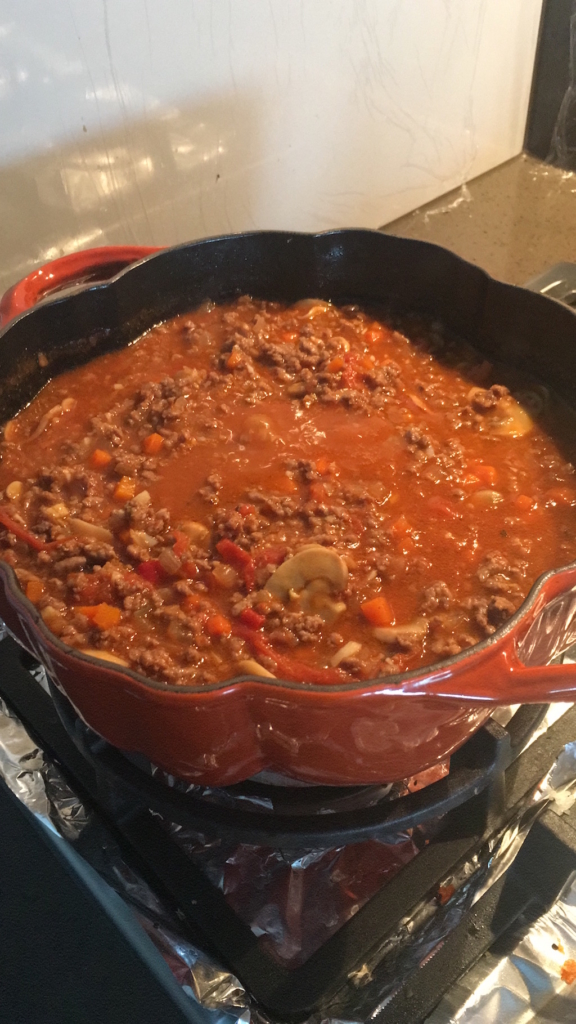 And while it's a bit time consuming, this recipe is quite forgiving, basically all you need to do is to throw everything into the pan until they're all cooked and leave everything on the pot to simmer to improve the flavour. Happy cooking!
Spaghetti Bolognese
Serves 6-12
Cooks in 45 minutes
Difficulty easy
INGREDIENTS
bacon (diced, optional)
minced beef (I usually cook 1 kg of minced beef in one go)
button mushrooms (about 8 pieces)
1-2 carrots, diced
1 big onion, minced finely
garlic
2 cut chilli
3 tomatoes, cut whatever way you want (the tomatoes will 'dissolve' with the sauce later on)
tomato sauce
basil (for garnish and to add extra layer of taste)
tomato paste/bolognese sauce (I usually use bolognese sauce that has herbs included. If using tomato paste, you might want to add your own herbs, e.g. oregano, basil)
a bit of worcestershire sauce
salt, pepper, sugar
dried spaghetti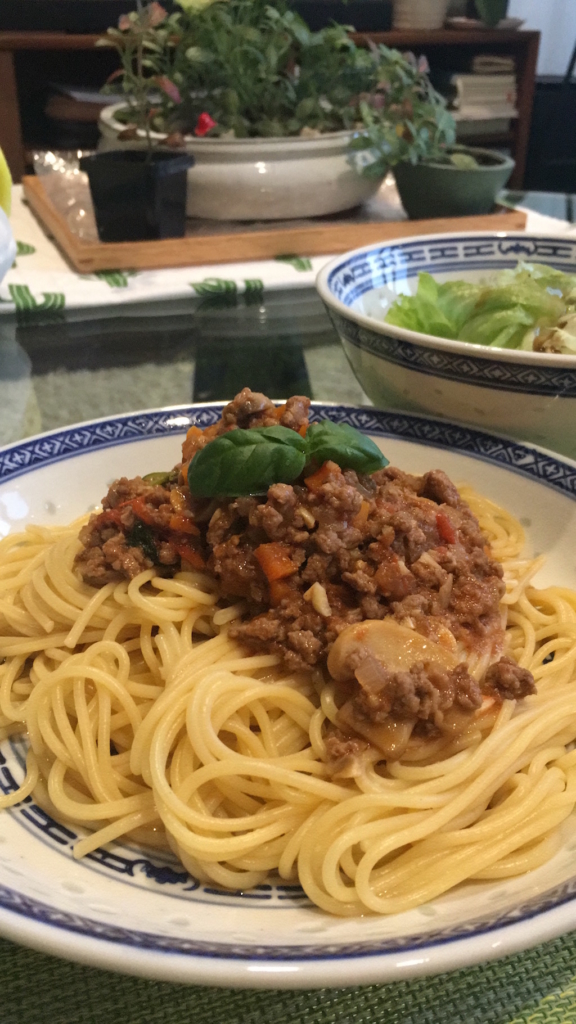 METHOD
Add oil to pot/pan (use a big pan with a lid—I usually use my cast iron pot for this dish). Brown bacon first (if using) and set aside. Brown mushrooms next. Add a bit of salt and pepper at this stage. Set aside.
Add more oil to pan if needed. Add garlic, carrot, and onion and stir fry them until softened. Set aside.
Add more oil to pan if needed. Brown minced beef, and do this in batches if the pan is not big enough. Add a bit of salt and pepper as well.
Return mushrooms, meat, and the veggies to the pot. Add tomato paste/bolognese sauce (I usually use half a bottle, and freeze the other half for next time), heaps of tomato sauce, salt, pepper, sugar, worcestershire sauce, and half of the basil. Stir everything. Put the lid on and simmer on low heat for about twenty minutes.
Open the lid and let it simmer without the lid for an extra ten minutes, until you reach the desired consistency. Taste and add more seasoning if needed.
Boil spaghetti until al dente and add bolognese on top. Garnish with basil and serve with chilli flakes. Freeze the leftovers for a quick meal next time!