After months of writing and doubting and figuring out what to do, I have finally arrived at this stage: My first eBook, Swimming with The Sharks, will be available for download starting on May 23rd, 2014.
About the eBook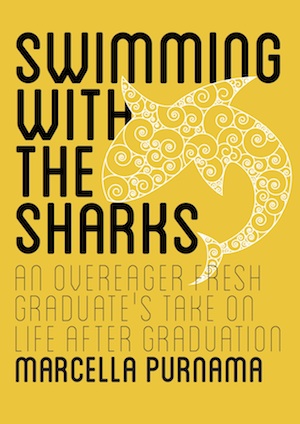 Swimming with The Sharks is a short eBook about life after graduation.
I have lived most of my life trying to have the next best thing. When I was in university, all I want to do is to work. And then when I was working, I gave all I had to quit.
And not just quitting, but quitting, again and again.
Since my graduation in the end of 2012, I have thrown in the towel three times. I have burned bridges and felt like a failure. Like many overeager fresh graduates out there, I felt lost, unfulfilled, unhappy, and plainly, I didn't know what to do.
In this book, I share my stories of growing up. I share my successes, as well as my failures, in a hope that many graduates out there will realise that they are not alone. That it is okay to feel lost, and be lost.
Getting the eBook
Here's another catch: I'll give the eBook for FREE! When you join my newsletter list, you will be given a PDF link to download the book.
Already subscribed?
Don't worry, you don't need to re-subscribe. After the eBook becomes available for download, I will send an email containing the link to download the PDF file. Oh by the way, thanks for subscribing!
Now what?
In the coming posts, I will give you more sneak peeks of the book: Some excerpts, quotes, and thoughts of the people who have read it. So make sure you are subscribed, and don't forget to connect with me via:
Secure your free copy now!